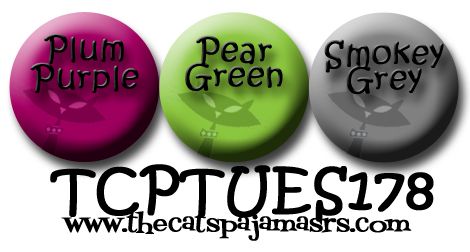 My Cat's Pajamas stamps have been sadly neglected lately....and being that
I am in a definite fall crafting mood.....I just had to play when I saw these
gorgeous fall colors as the challenge over at their site!! This is the result:
The little "witchy poo" stamp is from a set (that is on sale!) over there
right now. She is so darn sweet! But you know me....couldn't leave
well enough alone....and had to tweak this card up a notch...funny
thing, I don't like this pic as well.....but it shows the card in it's more
"embellished" form:
Do you ever do that? Start with one thing in mind, and then keep
"playing" until you feel it's "right"?
As for the goodies used: Echo Park Happy Halloween (the purple
star paper, and the witchy feet paper), DCWV cardstock (the green
and the grey), Spellbinders Star Circles Die, Black Soot and Dusty
Concord Distress Inks, the little bat pins from MM, and the twine
from the Twinery.
I dunno....maybe it's just me....lol.
Have a great weekend....and remember....more of the pumpkin
cards coming, so if you get a chance, stop by!
Go get crafty!!